Part One
(Text by Guy Pignolet)
An outstanding opportunity !
Jeannick Sery, a senior high school student from Grand Bassin, took off from Charles de Gaulle airport on Saturday 29 July 2000 at 21:25, on a Japan Air Line flight, bound for a very exceptional scientific summer camp...
In the beginning of the year 2000, Thomas Egli, a manager for scientific educational activities in the Horizon Consulting network, and a regular participant of the yearly International Meetings on Education, Communication and Scientific Culture in Chamonix, France, announced he was setting up an exceptional scientific summer camp, in a national park in the North of Japan, for 15 young French and 15 young Japanese students. The themes were volcanoes, bio-diversity, and renewable energies...
Later, in March 2000, two of the Japanese graduate students who participated in the development and construction of the SPS-2000 functional demonstrator came to Reunion Island to study the Grand Bassin project. There, in Grand Bassin, on Sunday 12 March, they met with Jeannick Sery. That night, we mentioned the scientific summer camp in Japan, and we did not have to repeat twice the explanations for Jeannick to say that he was interested...
From then on, we initiated the procedures to register Jeannick and to find the finance for him to participate in the camp. We were lucky that one of the very few young people living in Grand Bassin was selected among the 15 young French nationals that would participate in this exceptional adventure. And a good sense of community made it possible that the finance was not a problem...
25 days for a unique experience !
With the other French and Japanese students, and the help of six interpreters of their own age to facilitate communication and exchanges, Jeannick will join one of the groups in the three proposed themes of study. It was very natural, being from Grand Bassin, that he selected renewable energies...
The French educational team, with a 30-year background experience in science education, has proposed the learning approaches in each of the three options selected for the camp. The Japanese educational team will bring in their great knowledge of the domain and the science culture of their country. Then, in the field, day after day, the two teams will build together a new practice and a new knowledge about the organisation of science education, that will be shared by both countries...
The first three days will be dedicated to travelling, by plane from Paris to Tokyo, then by bus from Tokyo to the natural park of Towada, in the North of Honshu, the main island of Japan, and eventually to a discovery of the camp site, with an official welcome ceremony. During the following days, as a first approach, the young students will explore their field of investigation by visiting nearby locations and by meeting with the local experts in each field...
At the end of the first week, they will be able to attend the Summer Festival in Kosaka. The second week will be dedicated to a field trip, with the installation of a base camp, and expeditions to collect data and samples... Then after three days of certainly well deserved farniente, the young scientists will analyse the results and the data gathered from their expeditions. They will do research from their first results, and go on for additional investigation...
Eventually, they will prepare for feedback, and make an exhibition that will be attended by a number of invited scientific guests...
And it will be the end of the camp, and time to say good bye, may be not so easy after so much shared experience. The students will return home, after one day visit of Tokyo. Jeannick Sery will be back in Reunion Island on Thursday 24 August 2000...
Very efficient sponsoring ...
With this special summer camp, Jeannick Sery will experience an outstanding personal and educational adventure. This was made possible through the efforts of the small scientific community of Reunion Island...
The initial deposit, made by the Grand Bassin TESF non-profit association and CNES Engineer Guy Pignolet, using part of the grant received in 1999 in Princeton from the FINDS Foundation, made it possible to secure a place for Jeannick in this exceptional adventure. Then, the participations of ORESSE (a travel fund in La Reunion), the Social Fund of Lycee Boisjoly Potier (Jeannick's high school), the city of Le Tampon (where Grand Bassin is located) and eventually the donations of a number of the public who visited the Exposcience Reunion 2000 science fair, have allowed for the budget to be globally balanced...
Considering the general organisation level, this scientific summer camp has received institutional help in France and in Japan. The French Embassy in Japan, the French Inter-University Laboratory for Research in Scientific and Technical Education, the French Ministry of Planning and Environment, the French Ministry for Youth and Sports, Japan Air Lines, Spot Image, and the National Museum for Natural History have sponsored the French part. The City of Kosaka, and the Prefecture of Akita, in the North of Honshu, in Japan, have sponsored the Japanese part of the project...
Stopover in Paris...
In fact, Jeannick Sery had left Reunion Island since Wednesday 26 July 2000. While waiting to go to Japan with the other young boys and girls from the rest of France, he enjoyed two and half days in the famous city towered by the construction of engineer Gustave Eiffel. Jeannick, a brilliant mountain runner, was immediately able to find his ways in Paris, a city he was visiting for the first time...
Jeannick took advantage of this opportunity, guided by Guy Pignolet, to enjoy live science demonstrations at the famous Palais de la Decouverte, which he visited twice. He also made traditional visits, with a panoramic view of Paris from the top of the Arch of Triumph, and a cruise on the Seine river. Between visits, he also found time to put together a few dozens of educational booklets about WPT, SSP, and the Grand Bassin project, for the benefit of the other participants in this wonderful adventure of the scientific camp in Japan...
Part Two
(Text by Jeannick Séry)
First impressions...
We left CDG Paris Airport on Saturday 29 evening and arrived next day in Japan at about 4 p.m... At 6 p.m., it was night already in Japan, when in La Reunion it was only 1 p.m... From the airport to Kosawa, our final destination, it took us another 10 hours, riding a bus until pat 3 a.m.
Daylight comes early, about 5 p.m. The environment is quite like in La Reunion, with tall cryptomeria trees, bamboos, etc.. There are plenty of insects flying in the air (dragon flies, mosquitoes, horse flies, etc..). It's hot, but still bearable. Yamanoie, the house where we live, is on the shore of a lake, and there are beautiful mountains around.
In the afternoon, we have a small welcome ceremony, with the mayor of Kosawa and other persons who have supported the project. Everyone made a little speech, with the objective to give the "kick-off" for our scientific operations (geology, energies, biodiversity), to be conducted by our team leaders.
Tuesday August 1st, I woke up rather early, I went near the lake, a very large lake, very beautiful to look at, intense and beautiful. I could see the reflection of trees on water, very impressive. The most interesting thing I saw this morning was a pond with trouts. It reminded me of La Reunion, and more precisely of the place where I live, with the omnipresent nature and the beautiful mountains.
Then we left for the school where we do our work, we did little games to make up our teams (I wish I could have been in the energy group, but for reasons of group balance, I found myself in the volcano study group..). We were explained that Kosawa is a mining town, small but rather important. We learned with much detail that the lake is an ancient volcano, it is 370 meters deep. In the evening, we took a bath, then we gathered in a room, French and Japanese, to discuss together. We were given informations, and then we played games. There is a very positive mood around, this is very pleasant, it will help for the stay. I also think a lot of my parents, sometimes I meditate and I tell myself that I am very lucky, this will be an unforgettable experience...
Studying volcanism...
From Wednesday August 2nd on, we met together, French and Japanese, and we talked. The Japanese team leaders took the whole morning to propose us 7 different types of games. We had lunch around 12 a.m., then in the afternoon, we resumed our activities in the groups, we had to figure out the map of the world some 250 million years ago. During the exercise, we learned about the system of plate tectonics.
On Friday August 4th, we made an experiment about subduction, we had to do it over, and we made schematic drawings to explain the experiment. We had lunch, and we did the experiment again, for the camera. Later, a team from the NHK national television network came to report on the science camp...
Two weeks later, on Friday August 18th, we made a public exhibition of our work. It had to be perfect, and we worked quite hard for it. We checked the good operation of all the experiments that were to be presented, we put everything in place, and each group prepared its oral presentation. The exhibition was open from 2 p.m. to 3:30 p.m., in the presence of the mayor of Kosaka and some other important persons, French and Japanese nationals, who had contributed to make this great adventure possible.
In the evening, after our visit to the traditional Japanese Kabuki theatre, we had a grill party, offered by the mayor of Kosaka. It was a very fine party. We also had a demonstration of Japanese traditional drums, with one of our Japanese team leaders and her group. We tried it too, but it is necessary to have a good feeling of rhythm... That was our last party in that city that had welcomed us so well.
Meeting of cultures...
In Japan, cars drive on the left side of the road, and to enter a house, you have to take off your shoes and leave them in the entrance.
As soon a Monday August 7th, we went to see a demonstration of wickerwork with an elderly club. Then we saw how to make mocki (a kind of rice-based pastry). We visited museums, we had meetings with high school students, and we made a two-day trip to the national park of Hachimantai.
During our stay, we did sport activities, we were invited at a bar-b-queue with the mayor, we spent one day in Kosaka and we stayed overnight with families, and we went to a festival, a great festival with plenty of colours and fireworks, etc...
It was very interesting, but we can see that there is a gap between French and Japanese people, a gap that is noticeable in the language (in the way to explain an experiment, for instance..), and also in everyday life, both from the Japanese and the French side, where we could see sometimes some embarrassment. There was real communication between the two parties, but maybe it was too superficial. On the other hand, there was good mutual understanding within the group of the 15 French students, we made pals together, and I think that we will continue to discover each other better in the future.
Next... La Reunion ?
The day we left Kosaka, the French and the Japanese students said goodbye, and everyone was a little sad to leave behind that good mood that had grown out of our stay. We spent two days in Tokyo, we saw extravagant things, like the giant screens on the buildings... On Tuesday August 22nd, I flew from Narita to Paris and La Reunion, with one day stopover in Paris.
When I arrived in La Reunion on Thurday, It took a while for my mother to recognise me, with my Japanese head band. I also had the visit of the RFO Reunion, the regional television service, who interviewed me about my stay in Japan...
Two weeks after returning, I still think about those unforgettable moments. In spite of the difficulty to communicate with language, the French and the Japanese students have however shared the same emotions during the camp. I can understand that this stay had something fantastic in it. There was good understanding within the group, we learned to know each other. I also think that there has been a mingling of cultures, myself, a Reunionese, the other French students, and the Japanese people. Most of what we experienced during this adventure was due to that mix, everyone was eager to know what everyone else was thinking.
Again today, I can see all these events on the screen of my memory, like if I were still in Japan. I learned lots and lots of things, things that one cannot forget, things that may be very simple, but which I was not used to control. In fact it was a lot of small lessons in morals, and also other very important things, that really touched me. The camp was really successful, with exceptional team leaders. Our stay in Japan was something truly unforgettable that will forever remain deeply rooted in the heart of everyone of us...
Now I think that some day in the future I would like very much to become an engineer ...
... and I also would like the next French-Japanese science camp to take place in La Reunion...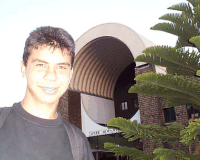 1 - Jeannick Sery
in front of high school
Boisjoly Potier, in Le Tampon