Professor
Nobuyuki KAYA
in Grand-Bassin
and LeTampon :
Nobuyuki Kaya,
Le Tampon City Hall,
Wednesday 16/05/01
In the background,
a painting of
Reunion's "Snow Peak"
click here to display
the image with a definition
of 1200 x 1792 pixels
1994
1996
1999
2001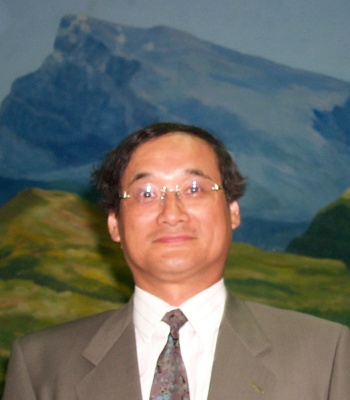 Professor Nobuyuki Kaya came first time in December 1994 to La Réunion and Le Tampon, with wife Yoshiko, on the occasion of the international SPS-IdR'94 seminar organised by the University of La Réunion. During the seminar, the WPT research group of theUniversity of La Réunion was created, and also the site of Grand Bassin was selected for a case study in view of the first operational implementation of this technology of the future. Professor Nobuyuki Kaya participated in the critical choice of Grand-Bassin.
===
Professor Nobuyuki Kaya came back to La Réunion for a zcond time, alone, in November 1996, for the second international seminar, SPS-IdR'96, organised by the Lgi-Actes Laboratory of the University of La Réunion. During the seminar, the feasibility of the Grand-Bassin WPT project was demonstrated, and on this occasion, Professor Kaya, as the chairman of the Power Committee of the International Federation of Astronautics, proposed that the 2001 international WPT workshop be held in La Réunion with the WPT specialists of the whole World.
===
Professor Nobuyuki Kaya came a third time in Le Tampon in November 1999, with wife Yoshiko and little girl Fukune, during a Cnes 'Tour de France" of the various research centers that might contribute to the development of WPT in France. The tour enlighted the leading role of the research group at the University of La Réunion. During the visit, Le Tampon's mayor Hon. André Thien Ah Koon, also a representative to the French Parliament, proposed that Professor Nobuyuki Kaya be made Citizen of Honor of the city of Le Tampon during the forthcoming May 2001 international WPT conference.
===
Professor Nobuyuki Kaya came back for a fourth time, with wife and daughter, to play a key role in the organisation of the WPT'01 conference. On this occasion he officially received the title of Citizen of Honor on Wednesday 16 May 2001 during a ceremony at the City Hall of Le Tampon. This title of Citizen of Honor is important for the future development of the relations between La Réunion and Japan, and it will be the invitation to many future returns of Professor Kaya and his sympathetic family in the dynamic city of Le Tampon...