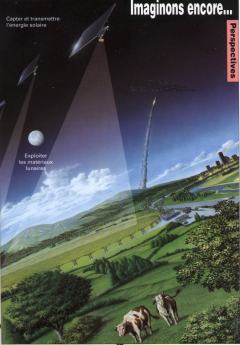 Space Solar Power
SPACE
TECHNOLOGY
An outstanding album
with all the basics
of space technologies and services :
Trajectories & propulsion, architecture of satellites, organisation of space activities, communications, observation, science, perspectives & dreams !


Published in English, in German,
in French, in Spanish and soon in italian
More than 300 000 copies !
32 posters in an album format, with clear explanation texts ...
a preface by cosmonaut Claudie Haigneré, and in the end,
two pages dedicated to solar power from space and future space power satellites ..
Editions Ronald Hirlé
131 rue Boecklin - 67000 Strasbourg - France
email : marie-france.hirle@wanadoo.fr