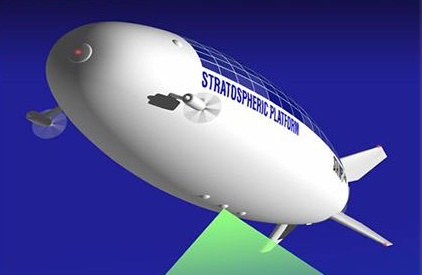 Stratospheric platforms, mainly for communication and observation, are coming of age,
and several countries, including United States and Japan, are developing futuristic projects.

In Europe, such platforms would be especially useful for places like Reunion Island, where high mountains and deep valleys make conventional communication and sometimes even satellite observation somewhat difficult.
Because the stratospheric wind speeds over La Reunion are relatively moderate compared to the winds at higher latitudes, La Reunion would be a good place to test the operation of balloon sub-satellite platforms stationed at altitudes in the order of 20 km.
Furthermore, because of the experience gained at the University of La Reunion in the field of Wireless Power Transmission, the application of the system to power stratospheric balloons could be studied. After the development of ground to ground WPT systems for Grand Bassin, a WPT- powered sub-satellite stratospheric balloon system would be a next step on the terracing way to Space Solar Power Systems.
For these several reasons, cooperation between France and other countries are now being investigated
for mutual benefits in the development of operational sub-satellite stratospheric platforms.